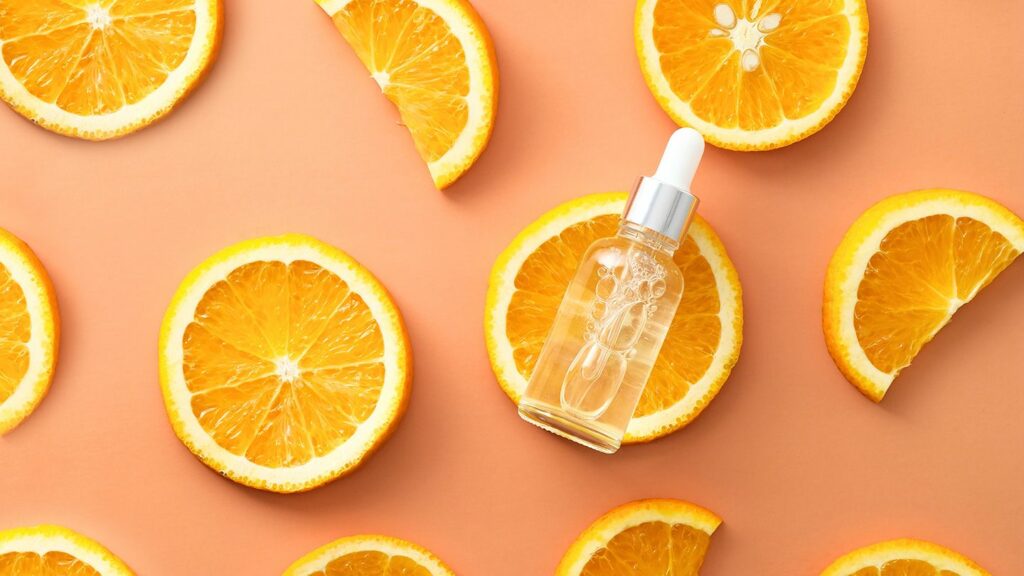 Let's do a deep dive into some my top Vitamin C picks across all the various forms:

L-ascorbic acid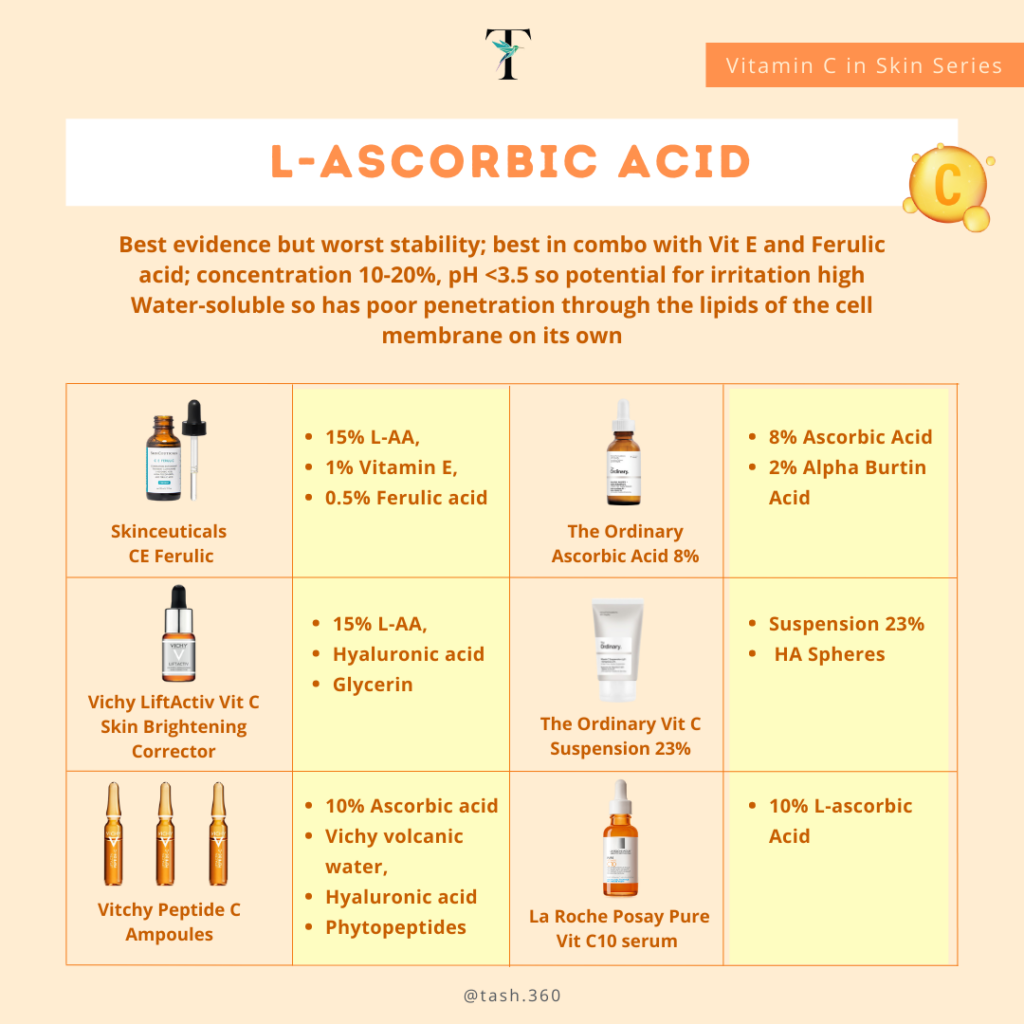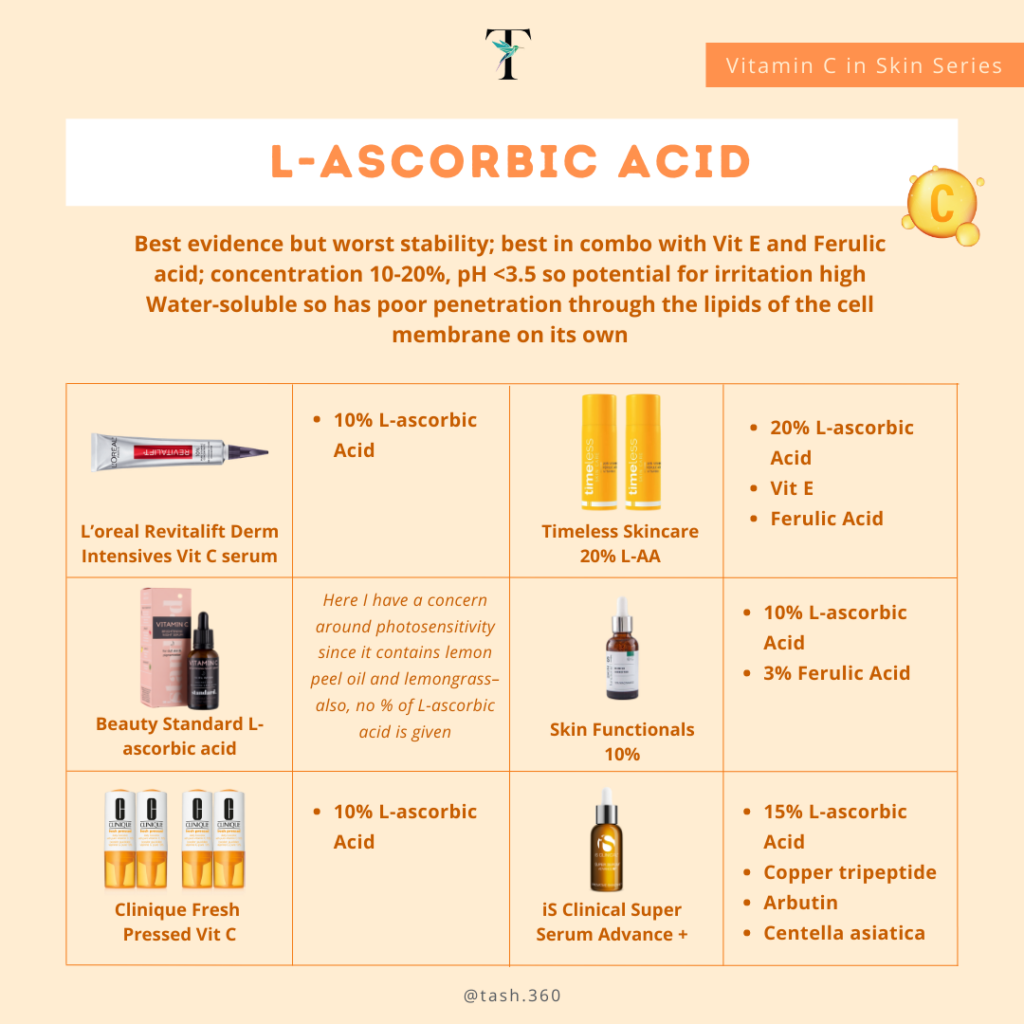 Tetrahexyldecyl ascorbate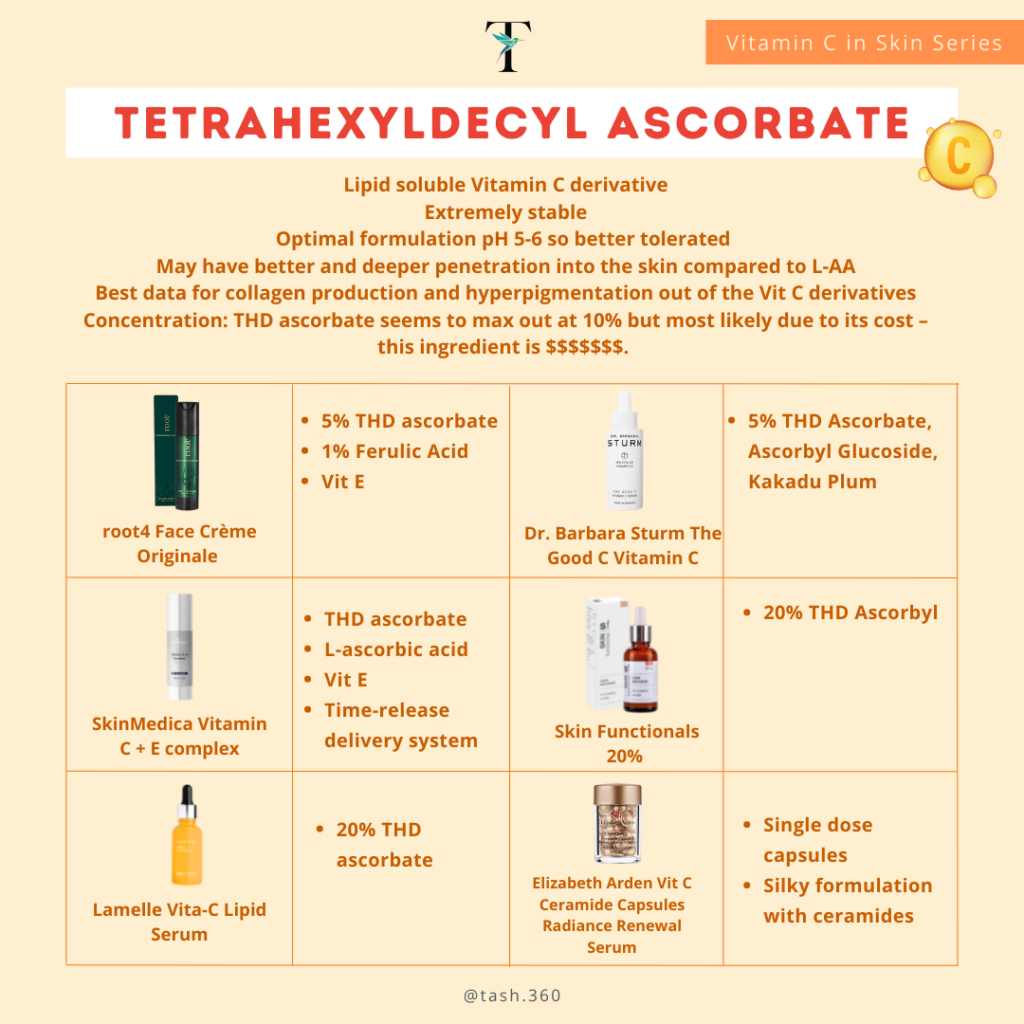 Ascorbyl Tetraisopalmitate – lipid soluble Vit C derivative & 3-O-ethyl ascorbic acid – ethylated Vit C derivative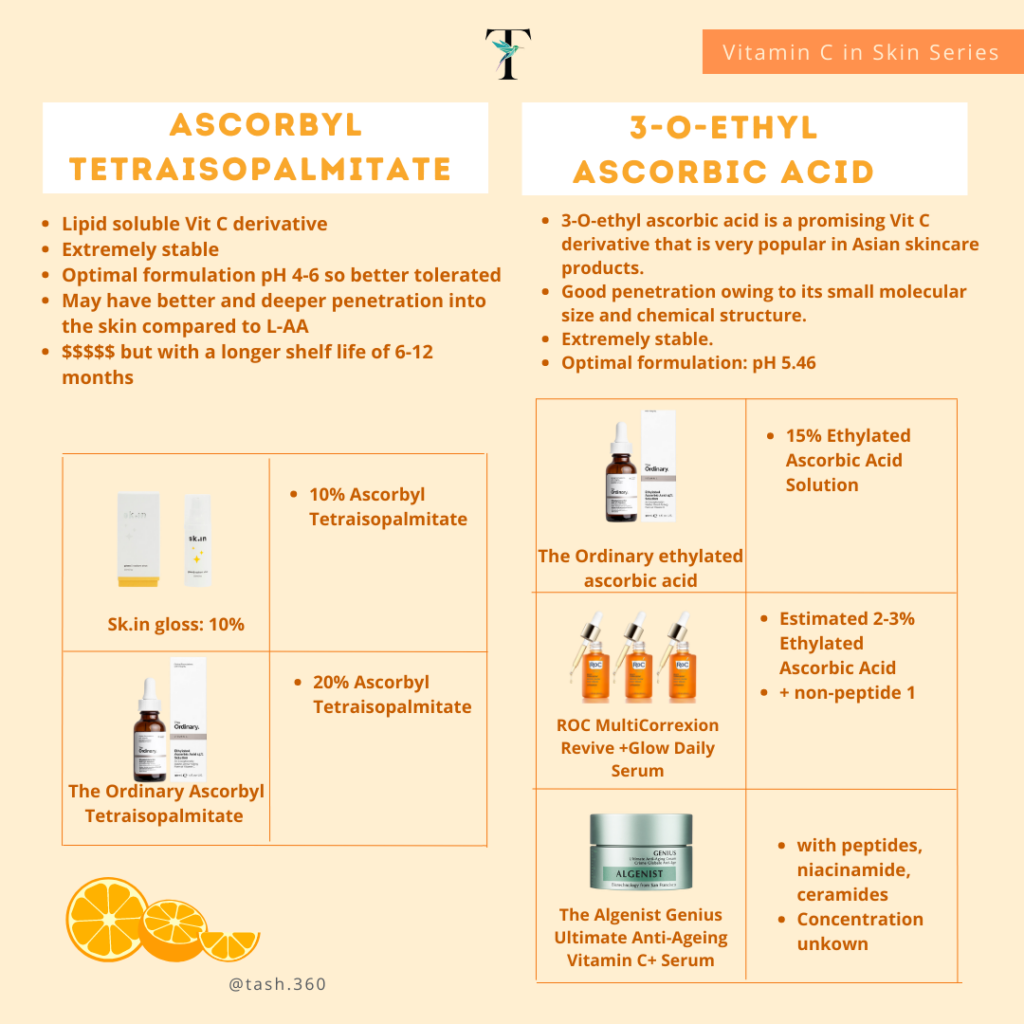 Ascorbyl Glucoside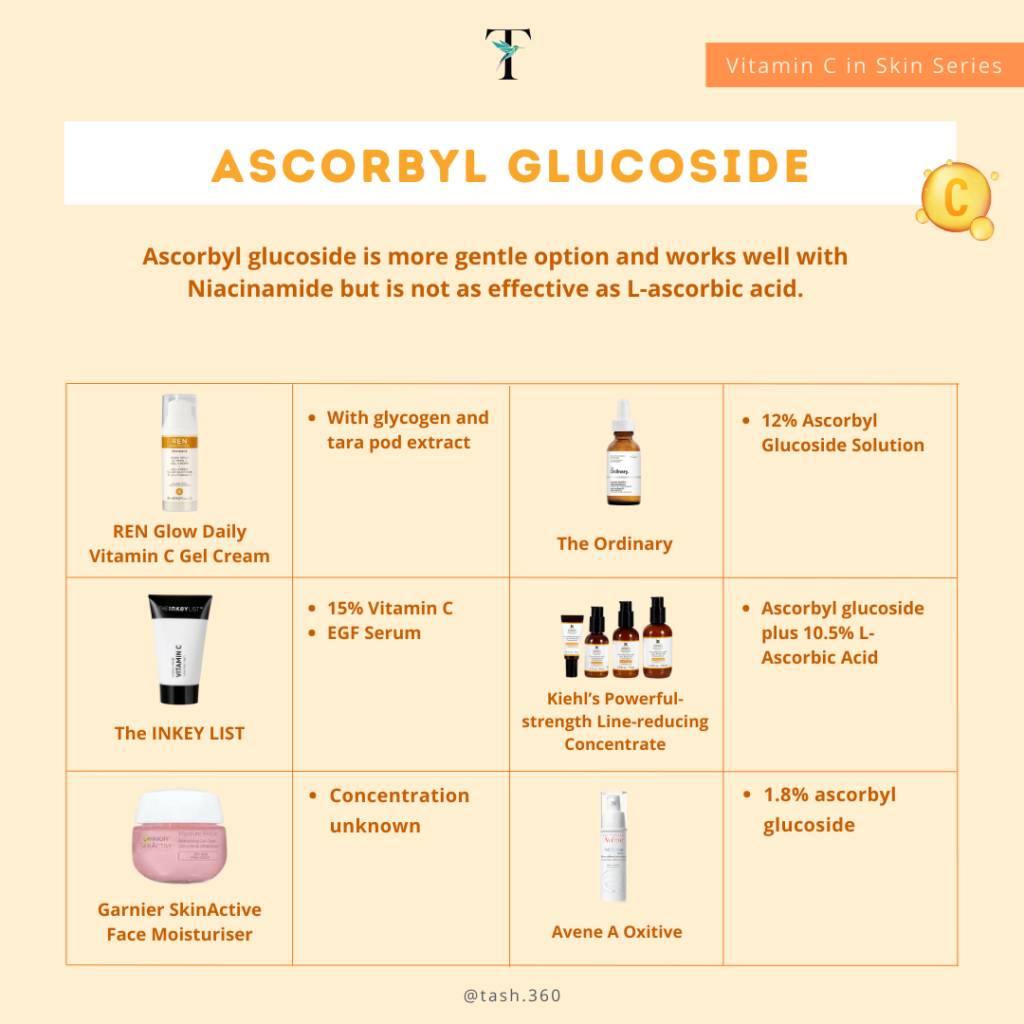 Magnesium ascorbyl phosphate (MAP)/ Sodium ascorbyl phosphate (SAP)
MAP and SAP are backed by a lot of in vitro evidence but due to its poor penetration (since they are water-soluble) and question marks over how efficiently it converts to L-Ascorbic Acid in the skin, formulation is key and efficacy is questionable. MAP is less potent than L-Ascorbic Acid but does help with skin brightening and is widely thought to be the best Vitamin C derivative for sensitive skin. SAP is not as effective as L-ascorbic acid for anti-ageing but shows some promise for acne-prone skin and is a good option for those with sensitive skin. Studies have shown that just 1% SAP reduces acne-causing bacteria and that 5% SAP was comparable to benzoyl peroxide in reducing acne inflammatory lesions.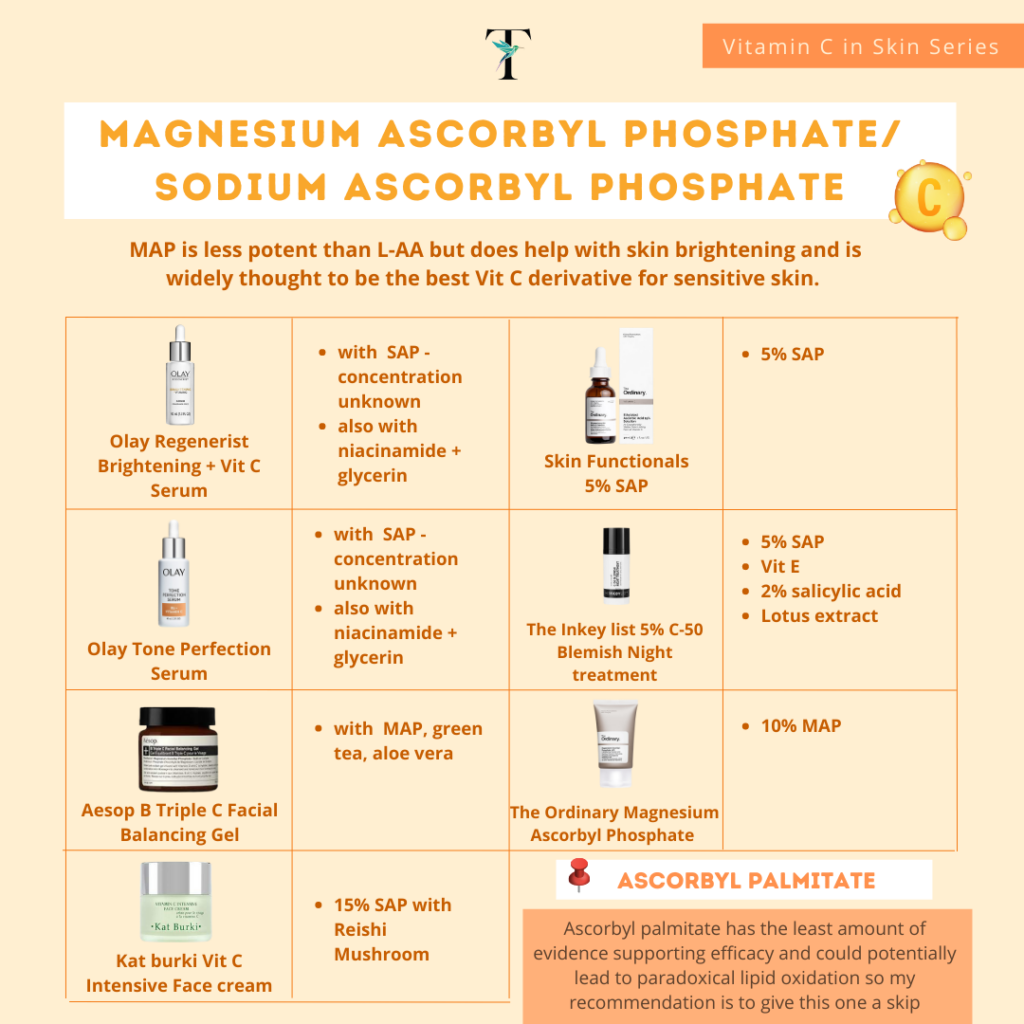 Ascorbyl palmitate
Ascorbyl palmitate has the least amount of evidence supporting efficacy and could potentially lead to paradoxical lipid oxidation so my recommendation is to give this one a skip.
CONCLUSION: if you want to stick to tried-and-tested, stick to ascorbic acid. BUT if you find L-Ascorbic acid too irritating then use products with Tetrahexyldecyl Ascorbate. It's a really promising ingredient even though most of its research is based on in-vitro studies.

DERM VITAMIN C HALL OF FAME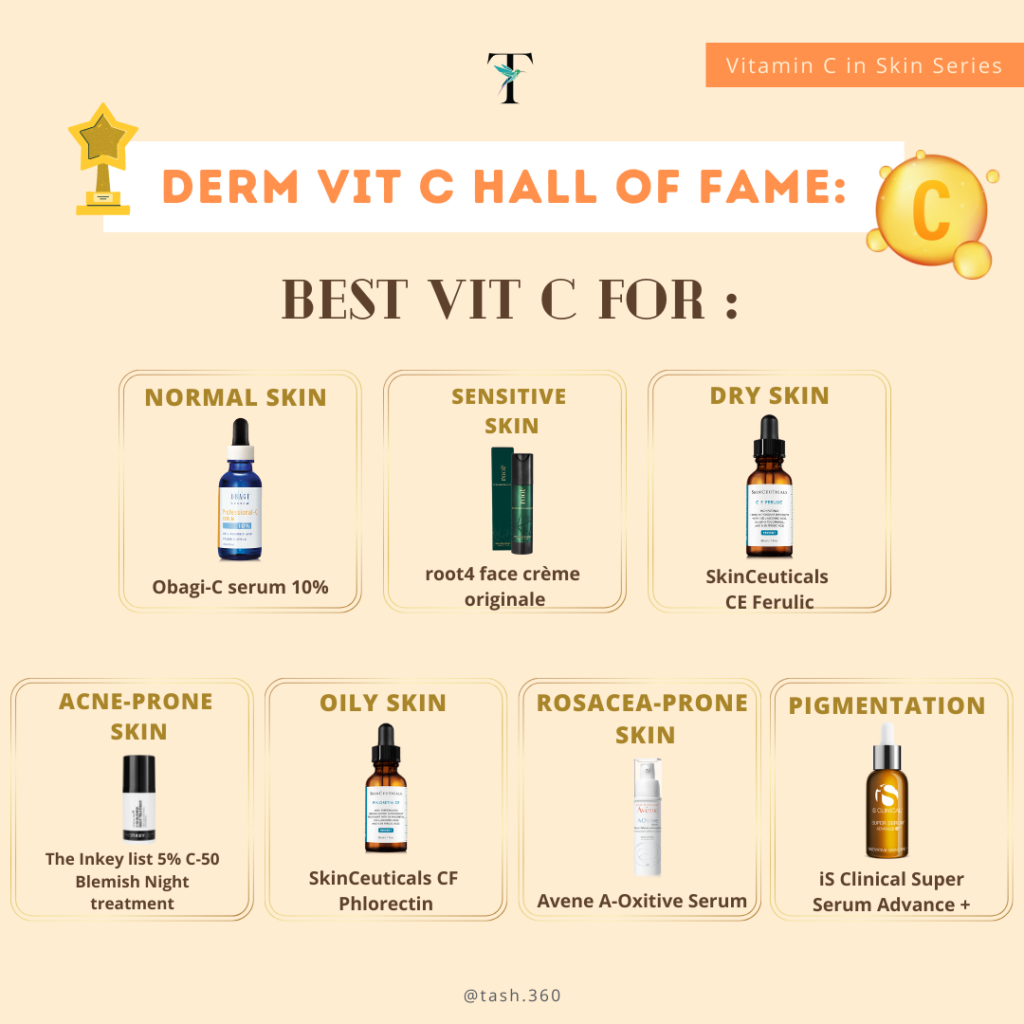 BEST FOR DRY SKIN: SkinCeuticals CE Ferulic – most extensively studied product with evidence backing its efficacy. This has a watery consistency. It is very mildly oily due to the Vitamin E.
BEST FOR ACNE-PRONE SKIN: The Inkey list 5% C-50 Blemish Night treatment with 5% SAP together with Vit E + 2% salicylic acid to exfoliate + lotus extract blend to balance sebum production.
BEST FOR OILY SKIN: SkinCeuticals CF Phlorectin: Similar to CE Ferulic but without the mild oily texture. More suitable for oily or acne prone individuals.
BEST FOR NORMAL SKIN: Obagi-C serum 10%
BEST FOR SENSITIVE SKIN: root4 face crème originale with 5% THD Ascorbate, Vit E and Ferulic acid plus a multitude of skin barrier loving ingredients, peptides and stem cell factors
BEST FOR ROSACEA-PRONE SKIN: Avene A-Oxitive Serum with ascorbyl glucoside, Vit E, Hyaluronic acid, glycerin
BEST FOR PIGMENTATION: iS Clinical Super Serum Advance +: Has 15% L-ascorbic acid plus arbutin to lighten pigmentation

When should you apply your Vitamin C
The most important time of day to apply your Vitamin C serum is in the morning for its antioxidant protection and boosting of SPF. I apply Vitamin C twice daily since research has shown that regular 8 hourly Vitamin C applications help to maintain a reservoir of Vitamin C in the skin and night-time antioxidant application is important to repair the free radical damage from environmental insults your skin faces during the day. I also reapply my Vitamin C serum after time spent in the sun to bolster my skin Vitamin C levels again since UV depletes Vitamin C. Since Vitamin C can be fairly irritating (depending on what form you are using), I recommend applying it just in the mornings for two weeks before phasing in night-time use slowly.

Does Vitamin C play nicely with other functional actives?
Once vitamin C was thought to be incompatible with lots of other ingredients, such as retinoids, niacinamide and chemical exfoliants such as alpha- and beta-hydroxy acids (AHA/BHA), but now there is plenty of research to suggest the opposite is true – particularly when it comes to the Vitamin C derivatives. In fact, the science now shows that retinol and vitamin C actually work synergistically together to create healthier looking and functioning skin. The caveat comes down to skin irritation so if you're using L-Ascorbic acid then be very cautious about combining this with other potential irritants such as AHA/ BHA or retinoids. I also caution my patients about combining L-ascorbic acid with benzoyl peroxide and prescription strength azelaic acid – the risk of irritation is very high. One final ingredient to avoid using L-ascorbic acid with are the copper peptides since L-Ascorbic acid is an antioxidant that can chelate metal ions so combining it with copper peptides will result in its oxidation.

Which ingredients should you look to combine with your Vitamin C?
Pair Vitamin C with other pro-collagen ingredients such as retinoids (Vitamin C in the morning and retinoids at night), peptides (other than copper peptides) and growth factors.
Can we produce collagen in the absence of Vitamin C? Yes, collagen will be produced if retinoids, growth factors or peptides are used but in the absence of Vitamin C, your collagen quality will be very poor and the collagen fibres will not be formed properly as hydroxylation – the process that depends on the presence of Vitamin C – will not take place adequately. A lack of Vitamin C will also result in increased fragility of blood vessels resulting in easy bruising.
Note that this also applies to ORAL collagen supplements – always look for one with additional Vitamin C for the most potent pro-collagen benefits.

Factors to consider when choosing your Vitamin C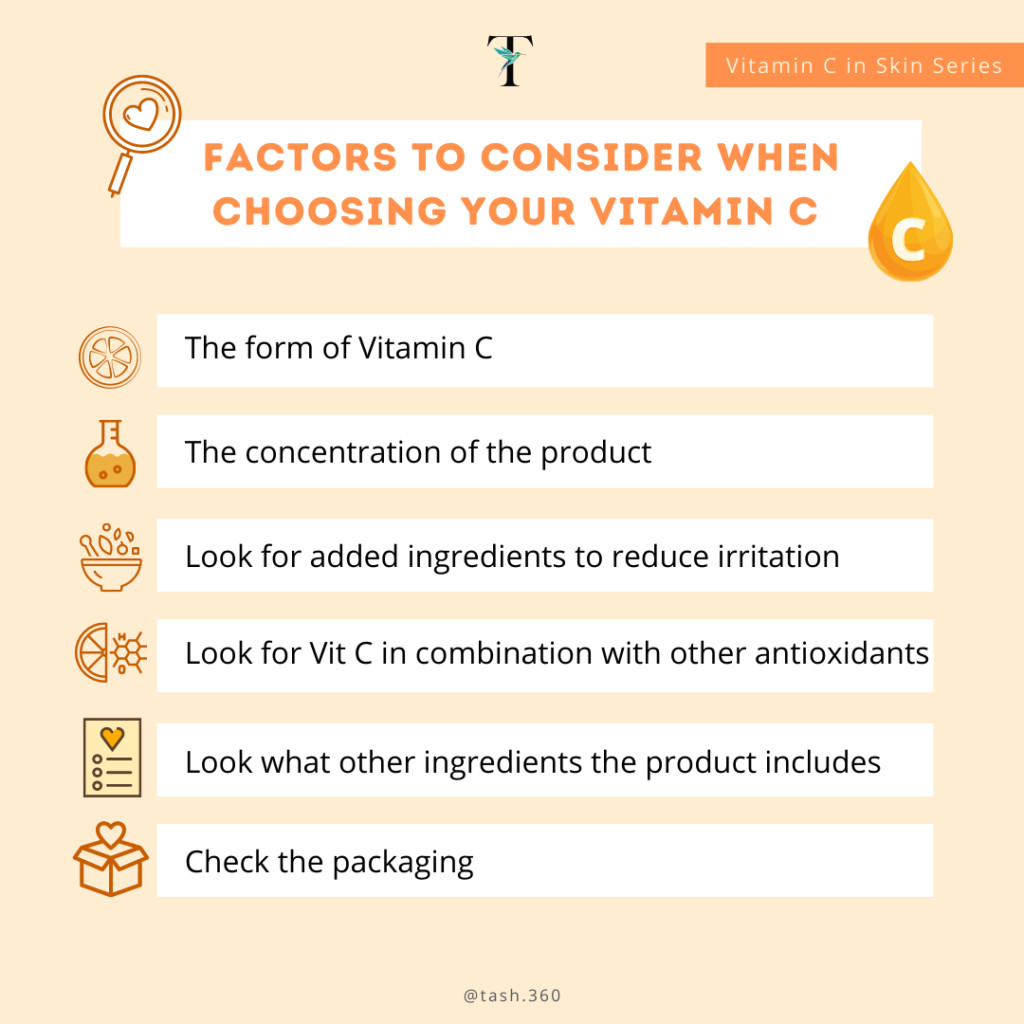 The form of Vit C – if you can tolerate L-AA then use this form but pick your product carefully in terms of added antioxidants to stabilize it, trials behind it, packaging etc; my personal favourite form of Vit C however is THD ascorbate due to the fact that its penetration is superior and it gets deeper into the dermis to work its magic without the irritation associated with L-AA. If you have acne, look for SAP. Sensitive skin types will do better with Vit C derivatives as they have a more tolerable pH (as skin barrier function can potentially get temporarily compromised at the low pH of <3.5)
The concentration of the product: The efficacy of Vit C is proportional to its concentration which ideally needs to be 5%-20%. Studies show that using concentrations of more than 20% doesn't give additional benefit and will just cause irritation.
Look for added ingredients to reduce irritation such as niacinamide, Vit E or other hydrating agents such as hyaluronic acid/ glycerin.
Look for Vit C in combination with other antioxidants: eg Vit E, Ferulic acid
– Using Vit C with Vit E increases it action four-fold and Vit C is known to replenish and regenerate Vit E in the skin. Some studies show that combining Ferulic acid with Vit C and Vit E can increase the efficacy of Vit C 8-fold.
– Remember that if your antioxidant serum reads like a smoothie stand – this is a good thing
Look what other ingredients the product includes: for example arbutin if you're focusing on pigmentation, centella asiatica if you battle with rosacea
Check the packaging – look for dark or opaque, air-tight bottles or airless pumps to ensure stability and to prevent oxidation. Bottles with droppers give you more exposure to air; airless pumps slow down oxidation since there is virtually no way air can enter the bottle.

Vitamin C Beginner Tips made easy