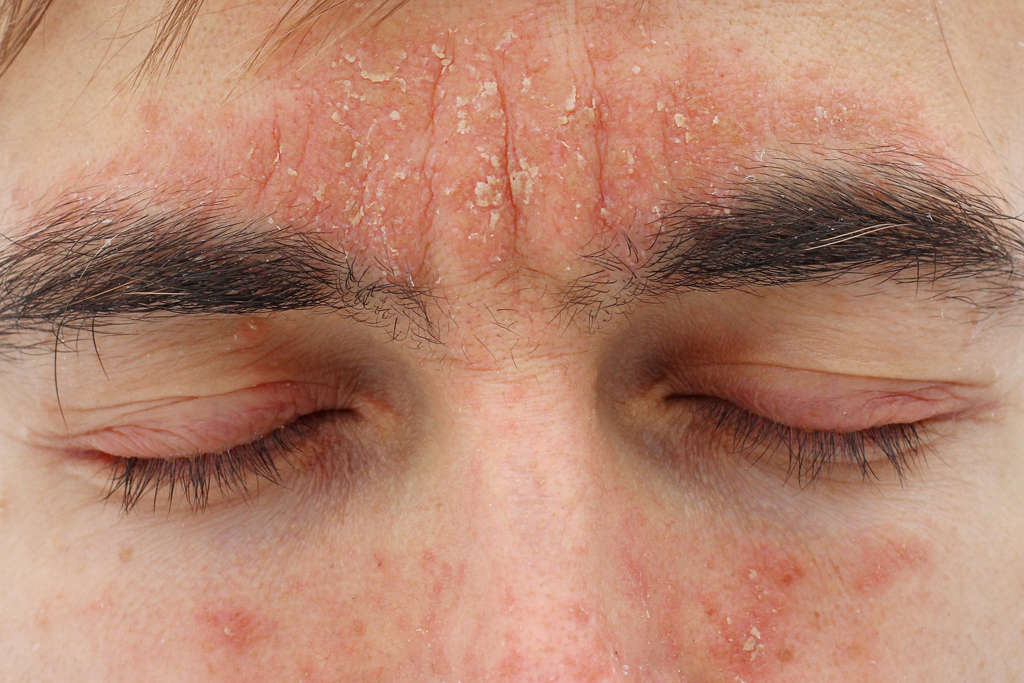 Seborrhoeic dermatitis is the scientific term of what we know as cradle cap in babies. But can you get it in adulthood? Yes, you can. It just looks a little different.
Adult-onset seborrhoeic dermatitis is quite common. Clinically apparent symptoms occur in around 3% of the general population. But because mild symptoms are not recorded, the incidence is likely much higher. The peak prevalence is in your 30's and 40's, and men are affected more often than women.

What does it look like?
Fine flakes of skin on your scalp or in your eyebrows are characteristics. These are also referred to as greasy scales or dandruff. The sides of your nose and around your mouth are also typically involved. Here you will find a fine red and scaly rash. If you do not have severe symptoms, this might be subtle, and you will only feel roughness in these locations. The ear canal, your eyelashes and the body folds can also be involved.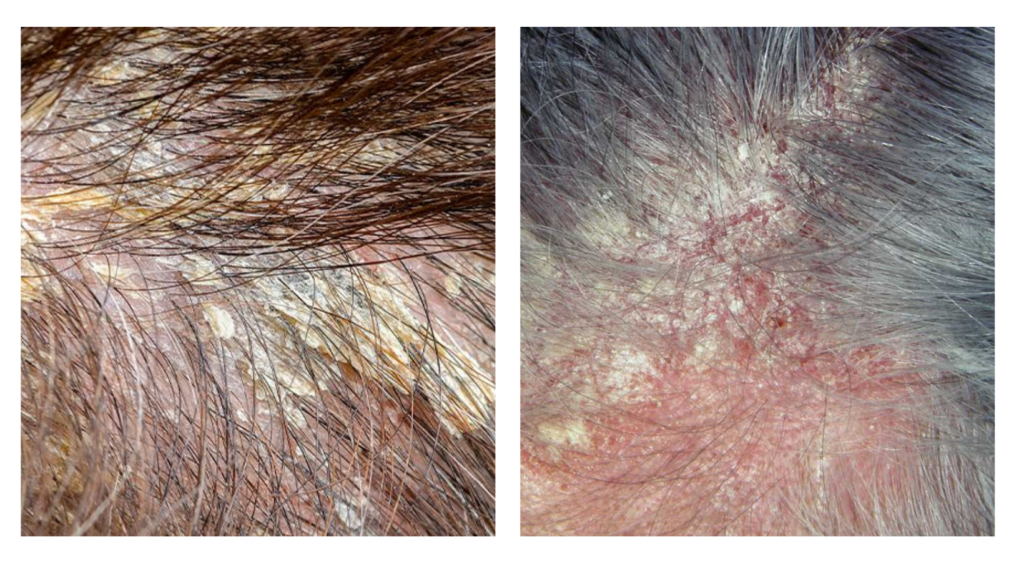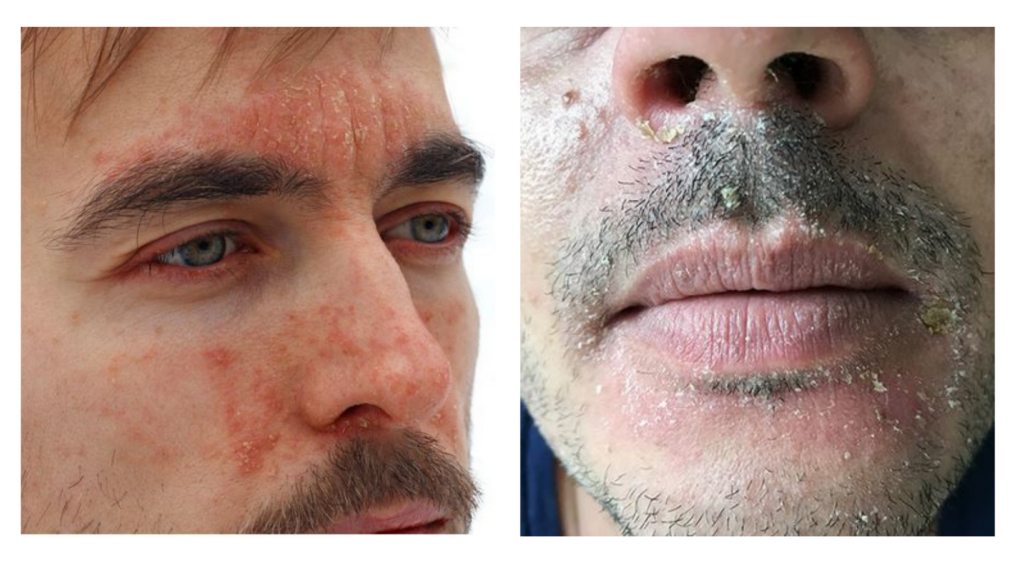 What is the cause?
The exact cause of seborrhoeic dermatitis is not fully elucidated. However, a yeast (or fungus) called Malassezia has long been thought to be the main culprit in this disorder. Malassezia turns your fatty acids and triglycerides into lipases that can irritate the skin, causing inflammation. It is normal to have micro-organisms on our skin. Just like your gut has a microbiome, your skin also has one. So it's normal to have a little bit of Malassezia. It is a problem if the microbiome is not balanced and Malassezia overgrows.
This mild form of dermatitis or eczema occurs in areas with higher oil (or sebum) secretion. You typically produce more oil in your scalp and T-zone (your forehead and sides of your nose). Seborrhoeic dermatitis is not a disease of the sebaceous glands (oil glands). People still have normal glands with an average amount of oil secretion. The oil (or sebum) creates a favourable environment for Malassezia, which is why Malassezia thrives!
Other factors contributing to the disorder include:
A dysfunctional skin barrier.
An abnormal immune response to Malassezia.
A genetic predisposition.
Some diseases like Parkinson's disease and HIV.

Can it be cured?
Not really. It is a chronic skin condition that has to be managed indefinitely. But it is most certainly not a dangerous disorder to have. And the upside is that it is easily treatable.
It tends to get worse when you are stressed or in the colder months.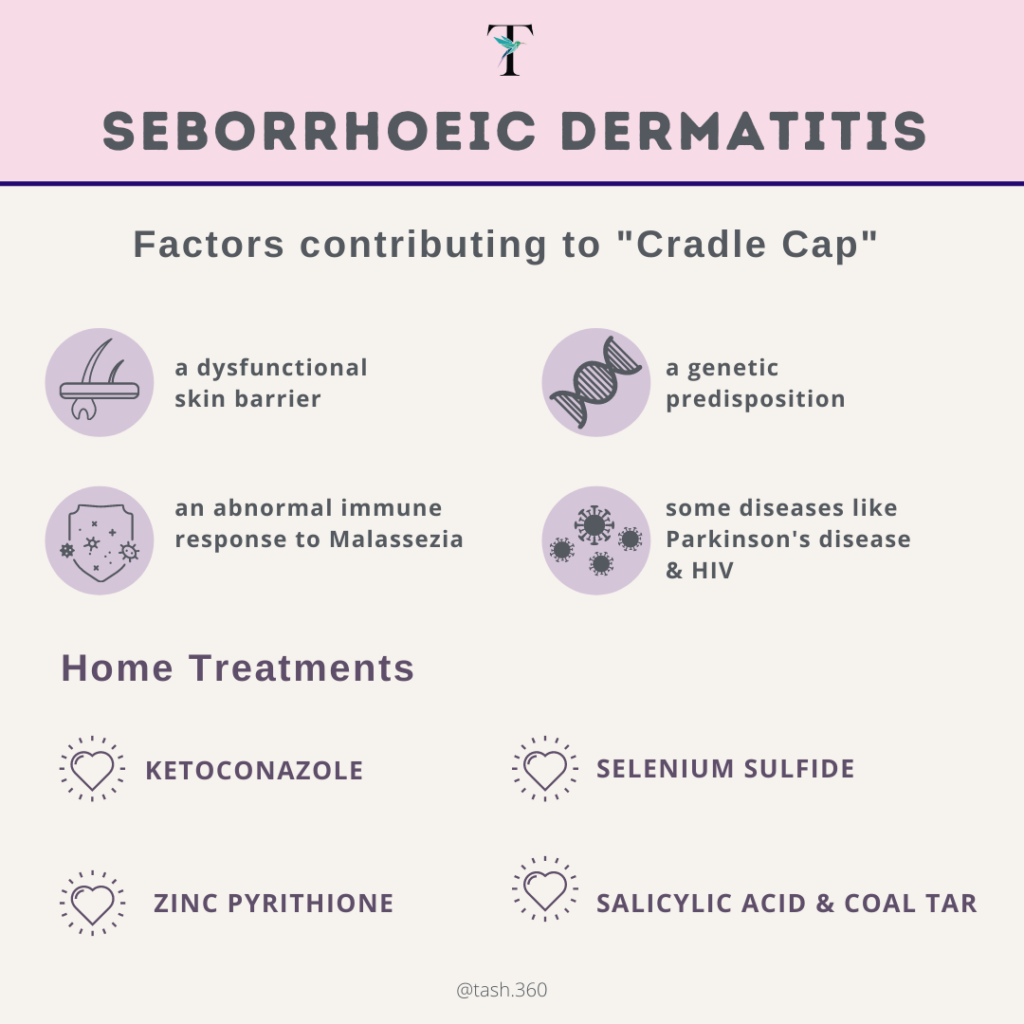 How can I treat it at home?
Look for the following ingredients:
Ketoconazole – This antifungal agent you can find in your Kez and Niz shampoos. In studies with more than 9000 people, this has been shown to be effective. A small study has shown the efficacy of lactic acid, another antifungal and licorice root extract combined.
Zinc Pyrithione has antifungal and antibacterial properties. It has been compared to ketoconazole and found to be equally effective. Head and Shoulders Shampoo contains this active ingredient.
Selenium sulfide at a concentration of 2.5% has been tested in studies and found to be effective. Selsun 2.5% is available in pharmacies. It may cause itching and burning in some people.
Salicylic acid and coal tar are keratolytic agents. This means they can remove flaky skin.
So which one should I try? – If you think you have seborrhoeic dermatitis, try one of the above shampoos to wash your head and your beard (that is, if you have a beard, of course). Leave it on for 5min before rinsing off. Try this for one month and then try an alternative shampoo if you have not responded adequately. There are also prescription shampoos available.
It is not recommended to start corticosteroids on your face before having the diagnosis of seborrhoeic dermatitis confirmed by a medical practitioner or dermatologist.
If you have tried the home remedies and you are still not succeeding or you are not sure if you have seborrhoeic dermatitis – best to come chat to your dermatologist. We have many more tricks up our sleeves!