It's time to debunk the misconception that healthy eating is always expensive and time-consuming. Creative, resourceful and pantry-led cooking is key to eating 'clean' while on a budget. Your pantry should be like an edible medicine cabinet – it should be used to optimise your health so let's start by overhauling your pantry!
Replace the unhealthy stuff with whole, minimally processed goods. Good nutrition starts with implementing meaningful, practical measures to get in the right foods. See our nutritionist's all-time favourite 'must-have' pantry items:
Legumes




I always keep chickpeas, lentils and black beans as staples – all are rich in good-quality protein, fibre, potassium, magnesium and our vitamins Bs.

Grains




Grains are flexible – they're great with curries, in soups or stews, and in salads! Use to create healthy and gut-loving meals – they keep well in the fridge so perfect for any last-minute dish. Think brown rice, quinoa, oats, buckwheat, gluten-free or legume-based pasta…

Tinned Tomatoes




Of course, we love fresh produce at its peak, but we are not about to ignore canned tomatoes when push comes to shove! Tinned tomatoes – in all the various forms – provide a bright color, juicy flavor and a dose of beneficial phytonutrients.

Coconut Milk




Coconut milk is a great alternative to using cream in dishes. It's perfect for soups and curries – it holds deep, rich and tasty flavors well.

Pickled, Briney Things




Maximize the use of your pantry staples by experimenting with the random jars of olives, capers and artichokes. These are often overlooked and end up at the back of the pantry – add some tang to your meals!

Tinned Fish


Don't miss out on getting your dose of anti-inflammatory fats from your tinned fish. The Omega's in fish are an essential component of anti-inflammatory eating!

Nuts and Seeds




Keep a jar of raw, unsalted jar of mixed nuts – include almonds, walnuts and brazil nuts. Chia, flaxseed, pumpkin and sunflower seeds are definitely essentials.

Oils




Oils are the backbone to EVERY good recipe. Let's ensure that our foundational ingredients are well-sourced. Olive oil should be extra-virgin, cold-pressed and stored in a dark, glass bottle. Easily available oils for high-heat cooking include extra-virgin coconut oil or avocado oil.

Spices and condiments




Upgrade your diet with good quality herbs and spices. Non-irradiated spices can be sourced through our wellness partners.

Nice-to-haves




Tamari, tahini, nutritional yeast, 'all-natural' hot sauces (peri peri, jalopeno, sriracha) and dijon mustard are some of the 'flavour boosters' that will ensure 'monotonous and boring' are no longer in your vocabulary.
Look to your pantry to make these 3 delicious, easy dishes:

Adre's Daily Dhal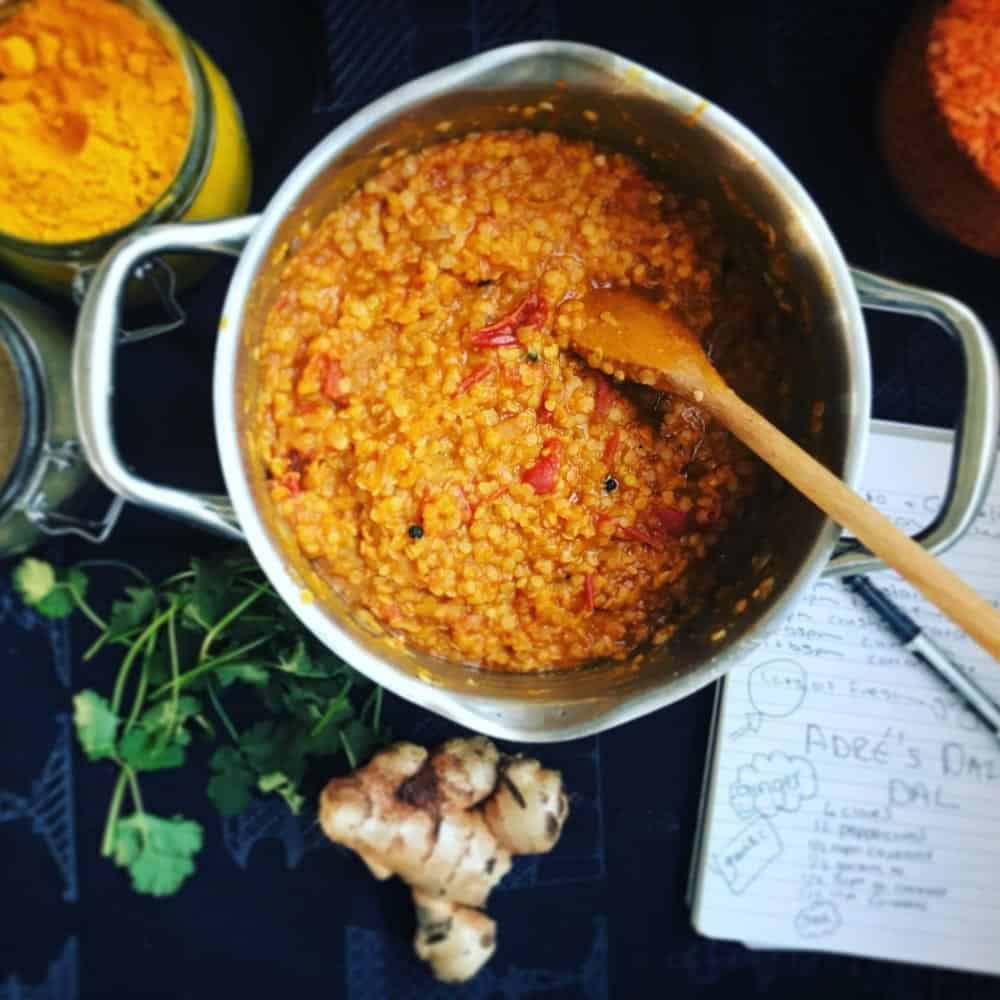 Preparation Time: 10 minutes (excluding cooking time for lentils)
Cooking Time: 30 minutes
Serves 4, with extras (serve with grain of choice)
3 tablespoons neutral oil

2 onions, diced

4 tablespoons ginger, minced (or to taste)

4 garlic cloves, minced

2 1/2 (225g) cups red lentils, dried

2 cans chopped tomatoes

Salt, to taste

Spice Mix:

6 cloves

6 cardamon pods, bashed

6 whole peppercorns

1 teaspoon coriander, ground

1 teaspoon turmeric, ground

1 teaspoon garam masala

1/2 teaspoon chilli powder (optional)
Cook 'already-soaked' lentils until soft. Use approximately 600ml water.

While the lentils are cooking, put the oil into a deep lidded saucepan on a medium heat. When hot, add the peppercorn and cloves, stir until fragrant. Add the chopped onions and cook on a medium heat until golden, soft and translucent.

Add the garlic and ginger and stir for a further 3/4 minutes or so, then add the coriander, turmeric, garam masala and salt. Stir well, then add the tinned tomatoes, simmer on a low-to-medium heat for approximately 10 minutes.

Add the lentils and pour in some cooking water to get a good consistency. (A good consistency would be like a thick porridge yet still falling off the spoon).

Finally cover the pan with lid and cook for a further 10 minutes until all the flavours have come together.

Season with more salt or a good chilli powder.

Berry Baked Oats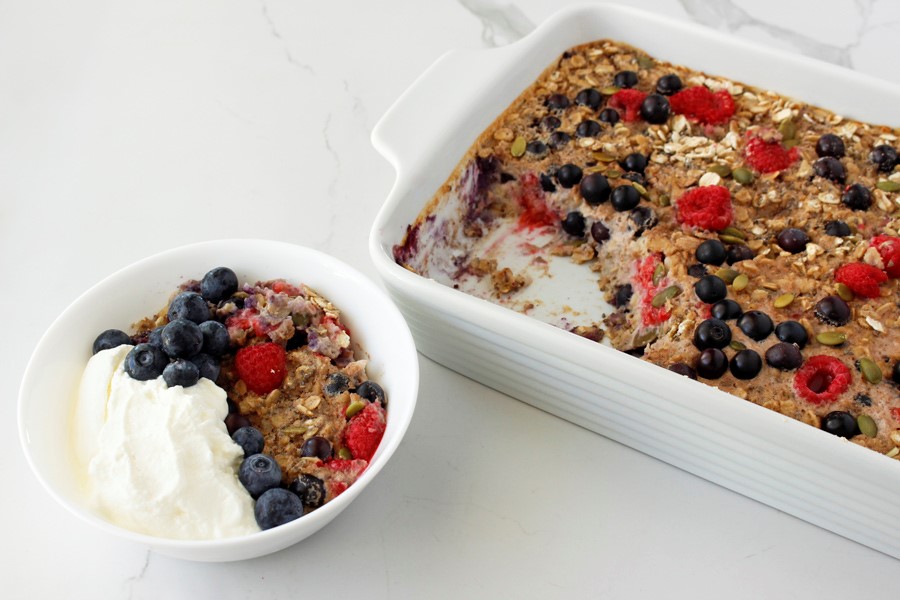 Preparation Time: 20 minutes
Cooking Time: 25 to 30 minutes
Serves 6
3 cups mixed berries, fresh or frozen

2 cups rolled oats

¼ cup chia seeds

¼ cup pumpkin seeds

2 tbsp protein powder of choice (optional)

1 banana

2 ½ cups milk of choice (almond milk or coconut milk)

2 tsp ground cinnamon

1 tsp vanilla 2 tbsp tahini

To serve: Organic dairy yoghurt or coconut yoghurt
Preheat the oven to 160°C.

Spread half of the berries across the base of a baking dish.

In a large bowl, combine the rolled oats, chia seeds, pumpkin seeds and protein powder( if using). Stir to combine and pour evenly over the top of the berries.

In a blender, combine the banana, milk, cinnamon, vanilla and hulled tahini. Blend until smooth. You can also whisk the ingredients together by hand if you don't have access to a blender.

Pour the wet mix evenly over the top of the oats. Give the baking dish a little shake to help the milk settle through the dry ingredients.

Sprinkle the remaining berries on top and place in the preheated oven to bake for 25-30 minutes.

Serve with your choice of yoghurt.

Roasted Cauliflower with Lemon Zest, Parsley, Capers, and Jalapeño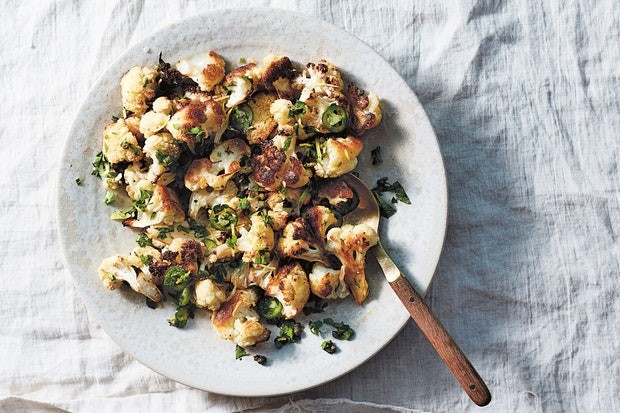 YIELD 4–6 servings
Total Time: 45 minutes
1 head cauliflower, quartered, cored, and cut into bite-size florets

3 to 4 tablespoons extra-virgin olive oil, plus extra for drizzling

Salt and freshly cracked pepper

1 lemon

1 large handful fresh parsley (about 1/2 cup/25 g), roughly chopped

1 tablespoon capers

1 jalapeño, seeded and thinly sliced

Flaky sea salt, for serving
Preheat the oven to 220°C. Spread the cauliflower on a baking sheet in a single layer. Drizzle with the oil, season generously with salt and pepper, and toss to coat. Roast the cauliflower, tossing the florets halfway through, until they are deep golden and crispy, 30 to 35 minutes total.

While the cauliflower is roasting, use a vegetable peeler to peel 3 strips of zest from the lemon. Cut each strip crosswise into very thin slices. Cut the lemon in half, reserving one half and storing the other for another use.

Transfer the roasted cauliflower to a serving bowl. Top it with the parsley, capers, jalapeño, and sliced lemon zest. Squeeze the mixture with the lemon half and drizzle it with more oil. Toss to coat all of the ingredients, and sprinkle with a pinch or two of the flaky salt.
---